I don't know if you've seen the latest advert for the iPad Pro?
Apple seem very confident to tell you that it's now a computer, which is to infer that the iPad is now ready to replace your laptop - with the 'Pro' label even suggesting that the claim extends to the workplace as well as at home.
Microsoft are having fun with this and their latest Surface Pro 4 adverts really poke ridicule at the very suggestion.
I've read quite a few tech-website reviews for the iPad Pro 9.7 asking whether Apple's claims are true - but they've only applied the question to their own line of work; journalism.
Now correct me if I'm wrong, but word processing and light photo editing didn't really challenge the iPad before the Pro came along - so I wanted to see how it coped in a different professional role. Mine. Let's see if Microsoft is right to laugh.
As an IT guy in a large University, my role comprises of setting the technical strategic direction for customer-facing computing services and leading some of the larger projects through to production. Although I have my own desk in a shared office, campus life means I regularly move between meeting rooms, coffee shops and the various collaboration spaces that we have set up for students (but quite like ourselves).
At the Office Desk - 24" Widescreen or Two? Or a 9.7" Tablet?
Sitting down at my desk, it's already easy to see why Microsoft is having a bit of a giggle. A Surface Pro 4 with docking station is hooked up to two 24" monitors, a large external hard drive and wireless keyboard and mouse. Even with Apple's frighteningly expensive collection of adaptors, I can't connect the iPad to all this. There's clearly no competition here - if you're desk-based, the iPad is not for you. Like the Surface Pro 4, the iPad is a mobile device, but the Surface Pro 4 is just at home as a desktop PC when you're not on the move. I'll allow Microsoft a bit of a smirk at this early victory - but we all know the iPad is not intended to be a desktop replacement.
Hitting the Coffee Shops
So let's get out and about. The iPad is a nice device to carry around and disappears in a bag. The Smart Keyboard, exclusive to the Pro versions of the iPad is a cover that protects the screen (but not the back) in transit and folds out cleverly to reveal a compact keyboard and stand for you to get some work done. Although undeniably well designed and made, this is a love it or hate it solution.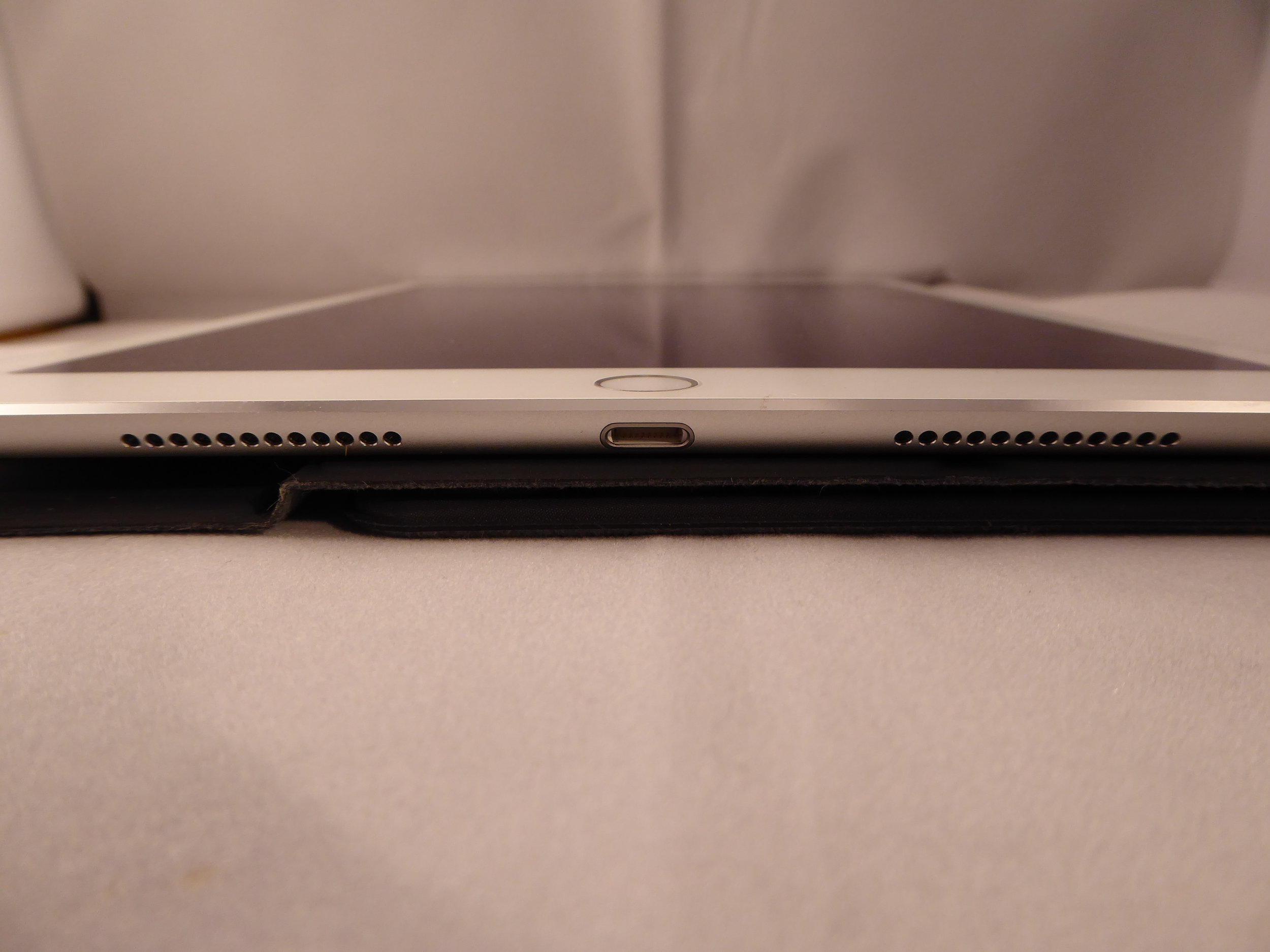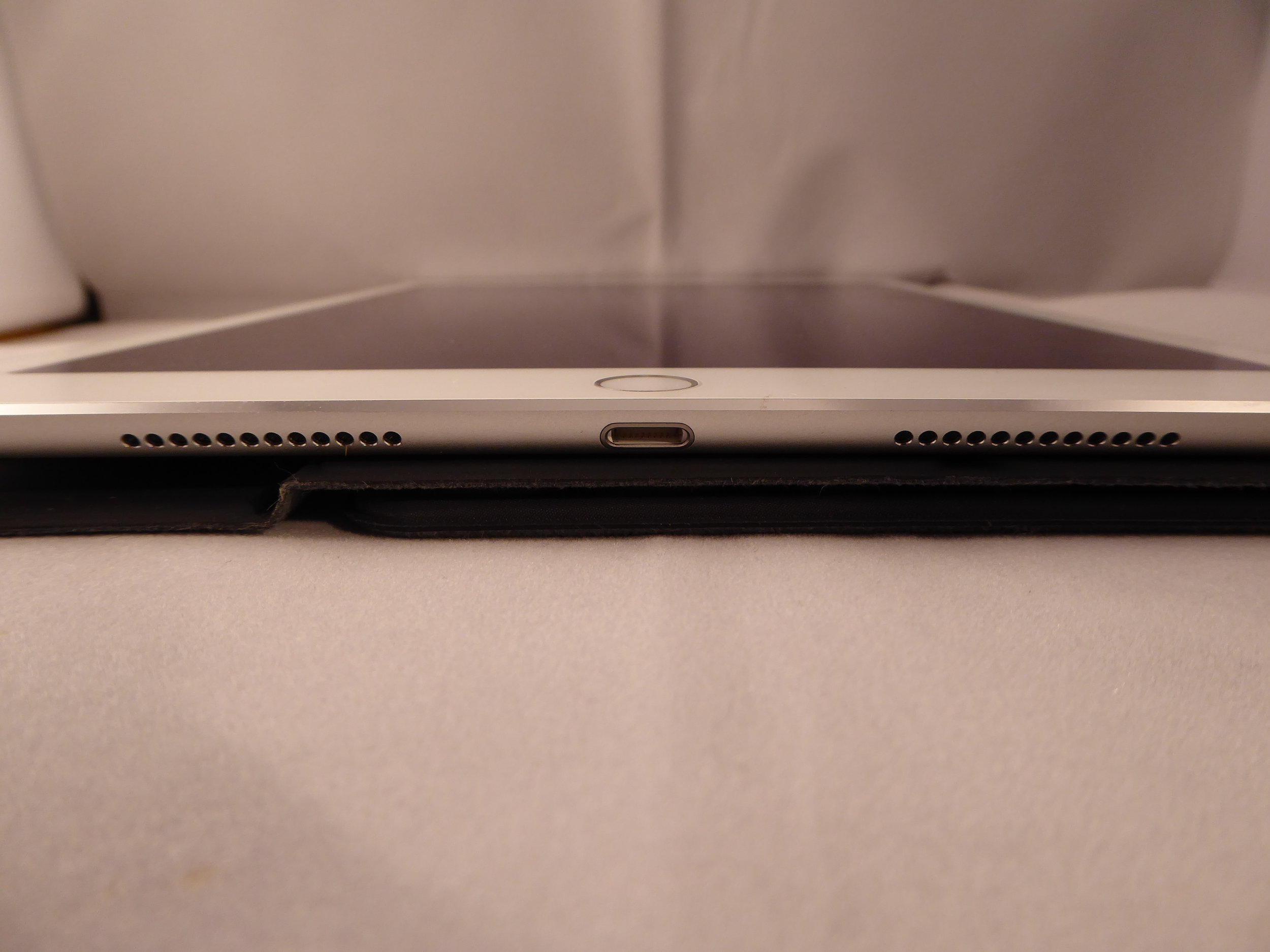 If you like your key travel to be deep, this is not the keyboard for you. It's also not great on your lap and has no backlighting. As on the MacBook, with its controversial flat keyboard solution, there's little give in these keys - but I've been pleased with just how fast I can type on it, having had it for over a month now. It's obviously a compromise over a traditional laptop keyboard, but the fact that it also folds neatly around the back of the screen when you're feeling 'tablety' and its near invisible weight means it does a good enough job when you need it and a great job of getting out of the way when you don't. If you want to emulate a laptop, then some great third-party keyboards are appearing which get this right, but at the expense of weight and portability.
Sitting in a coffee shop now, I'm noticing other things I really like about the Pro over the Surface 4. The screens on both are amazing and Surface Pro's is bigger. But the iPad has a trump card. It's not reflecting anything. The screen is crystal-clear and bright. In fact although it's a Retina display like several generations of iPad before it, the improvement in colour reproduction on the Pro is remarkable and made all the better that I'm not looking trying to peer past my own reflection in this bright environment. My daily-driver, a Dell laptop is impossible to use anywhere near a window because the screen is turned into a mirror - but the iPad is working well, even if I take the coffee outside and sit in the sun.
In terms of applications, Windows can always claim to be better supported in the professional environment. After all, it runs full desktop applications, not skinny apps. Corporate networks are designed around Microsoft technology and it's as easy to drop in a Surface Pro 4 as any traditional computer. The iPad presents your IT guys with challenges, but increasing demand for iPads in the office is seeing those barriers set aside one by one.
I must say though, that the limitations apps have faced in the past due to lower processing-power on mobile devices has forced them to innovate and now I'm often drawn to doing some of my tasks on the iPad, even when a desktop computer is nearby!
More ironically, we have Microsoft to thank for much of this, as Outlook on IOS is probably the best email app on the platform. The desktop version, whilst powerful, is a cumbersome beast by comparison. If you or your company are signed up to Office 365, then you get rather good iPad versions of Word, Excel and PowerPoint too, with cloud file-storage provided by 'OneDrive for Business' and instant messaging and voice communications with 'Skype for Business' - there's a whole lot of 'office' in this little tablet! Yes, they are cut down versions of their desktop relations, but the right bits have been left in and they're much more intuitive in use.
Bored Room Killer?
Time to head into a meeting. A big boardroom. Almost everyone else has turned up with a pad and paper, but there are a few laptops booting (haha, when you're ready people!). I whip out an Apple Pencil. Actually, I very carefully take it out, as it's frighteningly expensive and Apple haven't seen fit to include in the design a way to secure it to the iPad. I never have to think about the Microsoft pen, which is clasped to the slide of the Surface Pro 4 by strong magnets. I even had to destroy a Pentel mechanical pencil to get a clip which would stop the Apple Pencil rolling off the table every time I put it down!
In practice, the Pencil is a joy for note-taking. Unlike my Adonit Jot Pro, there's no issue with my wrist touching the screen as I write and the pressure detection helps make it feel as natural as possible. It's also supported by some of my favourite apps, including NoteShelf (which won my last app round up). I can keep multiple 'notebooks' in there and scribble away in virtual ballpoint, pencil and even fountain pen whilst the meeting drones on. Again, Microsoft are keen to help out by offering up an excellent version of OneNote. It's not quite as excellent as the desktop version though. Any Surface Pro 4 owners happily scribbling away with the equally excellent (and provided in the box!) Microsoft pen will be enjoying additional features like handwriting-recognition and being able to pull the meeting details over from the Outlook calendar in one click, but it's not a huge victory.
Once again, I'm pleased that the screen, now face up on the table is not reflecting the bright overhead lights too badly. Laptop users are having to adjust their screens, but not me.
Tablet Owners Shouldn't Get Snappy
Tablet owners have been known to make fools of themselves using the cameras on the back for taking photographs and I know to some, the decision to include the amazing camera from the iPhone 6S seems a waste. I wouldn't be without it though and today I've used it to quickly 'scan' some printed paperwork and I've dropped the shot into my OneNote. OneNote and Evernote are both great at this, because you don't even need to be directly in front of the page or whiteboard. Place the page down in front of the tablet and it will straighten it out for you itself. It's a big step toward your paperless office dream becoming a reality. I'm glad of the nice iPad camera, but I agree that it's not an alternative for holiday snaps. It's an awesome scanner.
When my turn comes to present, I'm a projector-adaptor away from being able to deal out some Death-By-PowerPoint, or maybe try to be interesting and use one of the myriad presentation apps available on iPad.
Get Some Real Work Done
A few hours before the end of the day to get my head down to do some work. Productivity apps are plentiful on the Apple Store, so I fire up MindNode and add some ideas to a mind-map I'm building for a project. I can easily share it with colleagues by exporting it as a PDF, or a FreeMind file and sharing it out from my OneDrive storage.
After joining a short conference-call on Skype for Business, where I note the forward facing camera does a good job and the sound is excellent for a tablet, I realise I need to check the help desk for any technical support tickets and . . . Well this is where I come unstuck. None of our corporate apps are happy with the iPad. I can't easily look at the support help desk, nor can I file my expenses. Some of the bigger players are now providing apps for these, but not yet at my place. I have a workaround - I can connect to a 'virtual desktop' running Windows (basically an instance of Windows running on a server somewhere that is simultaneously supplying about 50 other Windows sessions to other users) so that I can do 'Windows' stuff on my tablet. It works well - Windows 10 in particular adapts to the screen resolution and touch interface of the iPad and I'm able to complete my work. A bit of a cheat? Maybe, but it could be the way things go for a lot of mobile workers moving forward as companies invest in this kind of technology.
Just an
App
liance?
So is the iPad a computer? Well it clearly is. It can compute. In IT we now talk of running appliances and computers (or servers). Appliances are preconfigured by the manufacturer and can be dropped into the IT environment ready to do their specified job, whereas a server is an open platform where the IT Guy or Gal can turn it to, well, anything they want to. The server is more flexible, but the cost is complexity.
Perhaps the iPad is an appliance and the Surface Pro 4 is the computer. In IT we're buying more and more appliances to drop into data centres as they get more powerful whilst remaining comparatively simple. I think the iPad Pro is a sign that we're going to be putting appliances on people's desks soon too and the computer will take a step back towards a niche.
Before that happens, there are still areas where the iPad Pro has got some serious catching up to do. For example the browser. Desktop browsers like Google Chrome can run rich web-apps that rival or beat tablet apps. You can also install browser plugins add functionality and customise the web-experience to taste. Also, as huge as the Apple App Store is, if Apple don't like it, you can't have it. You can install anything on the Surface Pro 4 written for Windows from the last 12 years or so!
Verdict - Viable for Some
I'm not quite ready to proclaim the iPad Pro a laptop replacement for everyone. At home it might just be there, I hardly touch my laptop outside the office. If you're a Manager though, then maybe now is the time. It's a complete machine for the meeting room and coffee shop warrior and it indicates Apple's strategic direction, where one day I can see the iPad really break its way into the workplace and the computer start to become more niche.
Today though, the iPad Pro has at least conquered the original criticism of tablets - it is now just as much a productivity device as it is a consumption one. It remains the best tablet on the market and a superb secondary device for work.
J